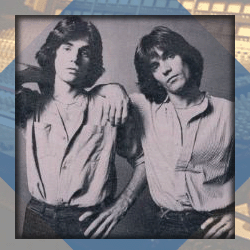 Biographie d'Alessi Brothers
French Translation by Emmanuelle Martens


Billy et Bobby Alessi forment un duo musical connu sous le nom d' Alessi Brothers ou Alessi (alias Barnaby Bye ). Alessi a vendu plus de 8 millions de disques à travers le monde.


Alessi a enregistré 7 albums avec de grandes maisons de disques plus un album indépendant. Alessi a vendu aux États-Unis ainsi que dans le reste du monde. Alessi a assuré la première partie d' Andy Gibb pendant sa tournée Shadow Dancing Tour , le point culminant de sa carrière.


Ces dernières années, Alessi a arrangé, produit et/ou écrit pour de nombreux artistes y compris Sir Paul McCartney , Deborah Gibson , Frankie Valle , Richie Havens , Olivia Newton John , et Christopher Cross. Les compositions et interprétations d' Alessi figurent dans des films tels que « Tendre Combat » avec Barbra Streisand et Ryan O'Neal et « Ghostbusters » avec Bill Murray et Sigourney Weaver

Billy et Bobby Alessi on tous deux en ce moment le plaisir et l'honneur de composer nombreux jingles de campagnes publicitaires aux État-Unis. Ils ont récemment créé des spots pour Ford ("Caught You Lookin"), Twix ("Chewy Chewy...it's all in the mix") et la campagne publicitaire de Slim Fast qui figure la star de musique country Jo Dee Messina .

Billy a assuré le générique de Coca Cola Light pendant 14 ans et a travaillé avec des grands de la musique tels qu' Elton John , Michael McDonald et Whitney Houston . Ses succès comportent également les campagnes de Kentucky Fried Chicken , Dr Peppe r, Sears et Seven-Up : des refrains connus de tous !


Bobby est également très reconnu dans ce domaine, ayant remporté le trophée national ADDY pour la campagne des bus Greyhound avec B.B.King et un trophée CLEO pour les bonbons Lifesavers avec Ladysmith Black Mambazo . Il a aussi composé d'autres thèmes familiers tels que celui de JC Penney or de la campagne mondiale de Blockbuster Video . Alessi a de surcroit assuré les ch?urs pour Sting sur la bande originale du dessin animé de Disney « Kuzco, L'empereur Mégalo ».

L'album qu' Alessi a réalisé en 1982 chez Warner Brothers Records s'appelait à l'origine « Roughen It », et ce pour une bonne raison. Comme le dit Billy «Nous sommes des amoureux de la musique et ne pouvons pas nous empêcher d'écrire des chansons». Ainsi, une compilation de démos « brutes » ('rough') est arrivée jusqu'à Michael Ostin , de Warner Records , qui pensa que c'était le matériel parfait pour la nouvelle maison de disques de Quincy Jones , Qwest Records . Avec Michael et la star de la pop Christopher Cross à la barre, les chansons allaient être soigneusement produites et sorties sous la forme de l'album « Long Time Friends » qui comprend un duo entre Patty Austin et Billy Alessi.
L'album d' Alessi sorti en 2003 , « Hello Everyone », a pris une direction différente de tout ce que ce duo musical avait auparavant approché. Cet exploit créatif était un projet auto-produit et qui a rempli ses promesses « Notre but, explique Bobby, est de laisser la musique parler d'elle-même ». Le son et le timbre peuvent être décrits comme étant « du pur Alessi », mélodieux et progressifs avec un fort accent mis sur les voix. Le grand saxophoniste Bob Magnuson , ainsi que le guitariste Jeff Southworth ( Hall and Oates ) jouent sur le morceau « All My Life ». Tout le matériel a été composé pat Billy et Bobby, et envoyé à travers le monde.
L'album d' Alessi le plus récent, « Just Like That », sorti en 2007, est resté sur la playlist de RTL pendant plus d'un an et le premier pressage est épuisé. Le second pressage est à présent disponible.
Alessi Brothers se préparent à sortir un DVD live qui sera enregistré au Wakker Home of Jazz en Avril 2009, et sortira en même temps que leur nouvel album « Pure Alessi » (titre de travail) et peut-être un EP qui comportera les Soundfighter Alessi Dance remixes et devrait sortir en Septembre 2009

Avec 10 millions de fans dans le monde, Alessi Brothers expliquent « Un amour comme ça vous donne envie de faire encore des disques ». Les talents, Alessi, sont tout comme leur mélodies, en dehors du temps et en avant dans l'avenir.